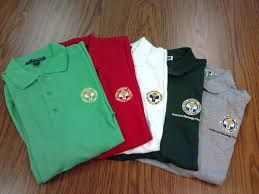 Embroidered Apparel: Everything You Need to Know
At International Minute Press, we love embroidered clothing. Our apparel embroidering is a top notch service, designed to meet your organization's exact needs.
If you're new to the world of embroidery, then it can sometimes be a challenge to absorb all of the information on the subject. Embroidered apparel offers many benefits to companies, but to a layperson, it's not always clear what these are.
Why Do So Many Companies Choose Embroidered Apparel?
You may have noticed that many companies use embroidered apparel. Retail stores, for instance, may ask staff to wear embroidered uniforms with their name and the company logo. Marketers may wear embroidered caps while interacting with customers at a stall or booth. And some office-based firms implement standardized embroidered clothing as part of company policy. But why?
In general, there are several reasons.
Embroidered Apparel Makes Identification Easier
Customers want to be able to identify the people who work for your company quickly. One of the best ways to do this is to use embroidered clothing. With our embroidery services, you can accurately recreate your corporate logo. Just send us the digital file with images, and we'll recreate it in stitch using our state-of-the-art machinery.
Embroidered Apparel Boosts Publicity
If you want to develop your company brand, embroidered apparel is essential. Unlike most marketing methods, it's a cost-effective way to promote your brand and build local recognition. Customers see logos and company markings on staff uniforms and immediately begin to trust and recognize your brand. The more you can expose them to your corporate images, the more likely they are to think about your firm when they need help.
Embroidered Apparel Creates A Professional Appearance
Customers want staff to have a professional appearance. Why? Because professionalism builds trust.
With International Minute Press, you can immediately generate a professional appearance with bespoke, custom-made embroidered apparel.
Embroidered Apparel Boosts Team Cohesion
When workers compete with one another to see who can dress the best, it can create tension and divisions in the workplace. Our embroidered clothing range helps your firm get around this by ensuring that everyone wears the same uniform.
Employees benefit too. Instead of having to spend time thinking about what they are going to wear at work for the week, workers can simply throw on their uniform and head out the door. It's simple.
Is Embroidered Clothing Affordable?
Not only is embroidered clothing affordable. But when you choose International Minute Press, you get incredible value for money. Embroidery is an inexpensive and high-visibility way to promote your brand and create customer loyalty.
What Kinds Of Organizations Benefit From Embroidered Apparel?
Practically all kinds of organizations and businesses can benefit from embroidered apparel.
Medical practices can use embroidered apparel to make it easier for healthcare workers to find their scrubs and other items.
Retail outlets can use embroidered apparel to replace staff name tags and make it easy for customers to identify workers.
Office-based firms can use embroidery to standardize worker uniforms, reducing competition and improving employee well-being.
Get in touch with International Minute Press to discuss your requirements and a free estimate: 704-782-2020.