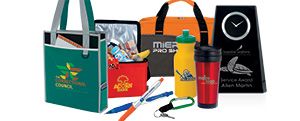 When it comes to promotional products, it pays off to make sure that you're offering the right thing. Whether you want to draw attention to an event, to stand out at a trade show, or simply to offer a little extra to loyal customers, a great promotional item can have a great impact. So, what makes a great promotional item? That's precisely the advice we're going to offer now.
Make sure it's easy to take with them
First of all, if you're at a trade show or you have a promotional booth set up at some event, then you need to be aware that customers aren't going to want to lug around too much. As such, it's recommended you consider something small and light, such as pens as USBs, that they can easily stow away. Or, if you do offer a selection of different items or something a little larger, then International Minute Press can also provide branded bags that offers real convenience. Your visitors will appreciate the thought.
Choose something they will use time and time again
The important part of a promotional item is that it promotes you. It needs to be ubiquitously wanted enough and used regularly enough that your brand gets plenty of exposure. That's why items used so frequently, such as coffee cups and mugs, always make for great promotional items. A good mug is going to get used and re-used, making it easier for your brand to stick in their head, building the recognition and familiarity you can capitalize on.
Ensure the design matches the product
When you choose someone to help bring your promotional items to life, make sure they have the capability to deliver bespoke designs that help you branding shine. At International Minute Press, we have a wide variety of options, with different colors and styles to apparel, mugs, and more, so you can choose the look that your logo and branding is going to look just perfect on.
Invest in quality over quantity
It's easy to want to offer your customers everything under the sun, but all too often at trade shows, you will see booths and tables lined with cheap plastic junk. People get so wrapped up in providing a variety of items, they have a selection of stuff that no-one wants to take home with them. Invest in high-quality bespoke items with teams like International Minute Press and your investment is more likely to pay off. If you're offering apparel, focus on offering it in different sizes rather than offering different types, for instance, so that you have a great looking product available for more people, rather than lots that no-one is going to be interested in.
Follow our advice, choose International Minute Press
Get the kind of high-quality, bespoke designed promotional items that are going to gather attention and find the perfect place to show your brand to your customers and clients. International Minute Press is more than happy to help you choose from a range of items, including mugs, apparel, booklets and more. Check out our catalog or get in touch and let's really make an impact.